Hasbro announced recently that it would be adding a new addition to their much popular "Legacy Collection". Hasbro owns merchandising rights for Star Wars toys and collectibles, and the newest piece is the behemoth war machine from The Empire Strikes Back called the AT-AT(All-Terrain Armored Transport) Walker. Theres been some renditions of this peticular vehicle in the past by brands such as Kenner but none have come so close to such detail and scale as Hasbro's 2010 model. This toy is colossal measuring at more than 2 feet tall, nearly 28 inches long, and 12 inches wide. It features many different accessories including a zip-line in its body, LED lights and authentic movie sounds and phrases, 3 3/4 inch AT-AT driver action figure and a pop-out speeder bike. It will be available mid-summer 2010 and carries a price tag of about $100.
Before its end a couple years ago, Master Replicas designed a collectors edition AT-AT Walker. This piece was amazing and actually came with its own plexiglass case and figure stand. The only problem is that it boasts a nearly quadruple digit price tag. Hasbro's new addition will only set you back a fraction of that.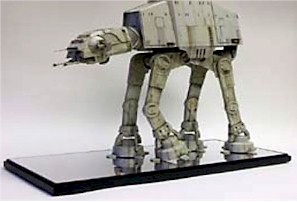 The original Kenner AT-AT Walker from the 1980s.